About us
Pizza will always be a staple food for everyone and at Parmelia's Pizza House, you will never go wrong with any flavour you choose. We are conveniently located at 81 Parmelia Drive Taylors Lakes VIC, and we are available for both delivery and pickup services on all days of the week except Mondays. Feast on our traditional pizza flavours such as Margarita, Mushroom, Garlic Pizza Paemelia's Special, Capricciosa, Vegetarian, American and a whole lot more. If you want something unique, try our Gourmet pizzas that include Ortolana Pizza, Tandoori Chicken, Goat Cheese Pizza, Four Cheese, Prosciutto Pizza and many more. Click on the Order Online button now to view our complete list of menu and place your orders.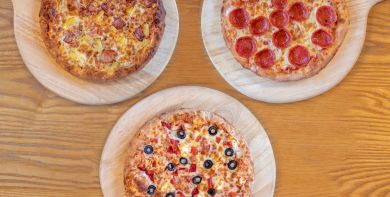 Reviews
Carly
"Pizza was delicious, the beat I've had in a long time and delivered 30 minutes prior to the notified time, steaming hot and fresh! Will definitely order again!"
23/02/2020
Anthony
"Good quality is exemplary for the price they charge."
14/02/2020
Jeffrey
"Always delicious pizza with fantastic service."
7/02/2020